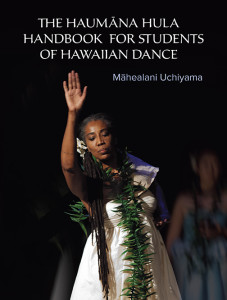 The Haumana Hula  Handbook for Students    of Hawaiian Dance
A Manual for the
Student of Hawaiian Dance
Author: Mahealani Uchiyama
Foreword by: Naomi Leina'ala Kalama
A great resource for students of traditional Hawaiian dance, this beautiful handbook filled with archival photographs covers the origins, language, etiquette, ceremonies, and the spiritual culture of hula. Hula, the indigenous dance of Hawai'i, preserves significant aspects of Native Hawaiian culture with strong ties to health and spirituality. Kumu Hula, persons who are culturally recognized hula experts and educators, maintain and share this cultural tradition, conveying Hawaiian history and spiritual beliefs in this unique form of cultural and creative expression, comprising specific controlled rhythmic movements that enhance the meaning and poetry of the accompanying songs.
Emphasizing the importance of cultural literacy, the Handbook begins with an overview of the origins of hula, its history in Hawai'i, and the primacy of the spiritual focus of the dance. The book goes on to introduce hālau etiquette and practices, and explains the format of a traditional hula presentation, together with the genres of hula and the regalia worn by the dancers. Practical components include sections on Hawaiian language and chant and a glossary of hula commands and footwork.
Author Māhealani Uchiyama trained in Hawaiʻi in the hula lineage of Joseph Kamoha'i Kahā'ulelio and is currently the Kumu Hula at the Hālau Ku Ua Tuahine in Berkeley, California. As the founder and artistic director of the Center for International Dance and board member of World Arts West, the producers of the San Francisco Ethnic Dance Festival, Uchiyama's approach to hula is deeply holistic and reflects her background in indigenous wisdom traditions and cultural exchange and interaction.
Reviews are coming in:
"Thank you from the bottom of my heart for your Haumāna Hula Handbook.
I find it to be the most comprehensive, educational, factual and yet passionate publication on this topic there is.
What's more, it offers an abundance of valuable information to students of hula on many different levels – from newcomer to the more advanced. Especially overseas students who lack access to regular instruction by a kumu and halau life will benefit immensely from your book.
I especially appreciated your open discussion of the many misconceptions, such as the construct of "huna". There are certainly many misconceptions about hula and Hawaiian culture still around in Europe that can be helped by studying your handbook.
I've already recommended it to our students and will continue to do so.
Una"
Join us at these upcoming release events!
Thursday, April 20th at 1:30 – Merrie Monarch Week Event
Basically Books
160 Kamehameha Avenue
Hilo, Hawaiʻi