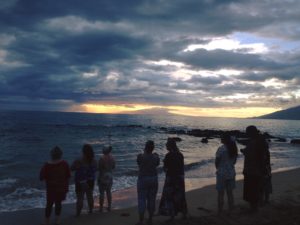 For the second consecutive year, I am preparing my hālau to enter the upcoming Kū Mai Ka Hula Competition in Kahului, Maui.
This is a wonderful event which features award-winning hālau from Hawaiʻi, Japan and California competing in solo and group performances. We were awarded Second Place for our Kūpuna performance in 2015. This year, we will be participating in both the Kūpuna and Wahine Division.
I began competing back in the mid 1980ʻs with the old Kaleponi Hula Competition at Fort Mason Center, and on with Iā ʻOe E Ka Lā, ONIPAʻA, the San Francisco Tahiti Fete, and the Tahiti Fete of San Jose. I have also participated in competitions in Hawaiʻi over the years, most notably the King Kamehameha Hula and Chant Competition and one time as a hoʻopaʻa for Hālau O Kuʻuleinani at the Merrie Monarch back in 1986.
Though we have placed more than not, I have to say that the most valuable thing for me about these experiences is not coming in first, second or third. It has way more to do with learning a new aspect of history and culture, and then working hard to understand how to most respectfully represent it through our movement, regalia and song. When it comes to competing in Hawaiʻi, this requires a level of immersion from all of us which is, due to our being here in California, challenging to say the least. What I most treasure about the experience of bringing a company of dancers to step up into competiton in Hawaiʻi is for them to be there on the land from which the tradition springs and to see the transformation in how they perceive their hula. Once there, they directly experience the caress of the wind and waves, the inspiration of the features of the land, and most importantly, the warmth of the community.
Make no mistake, winning is fantastic! But more valuable is the opportunity to deepen our foundation, flesh out our contextual understanding of the tradition, and obtain extremely valuable feedback from the master teachers who will carefully evaluate everything we do.