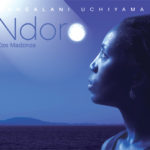 Conceptualized over 1,000 years ago, the mbira is used in ceremonies of healing and personal meditation, and incorporates a canon of songs that are offered as prayers. The mbira is particularly associated with the ancestors, spirits of loved ones who no longer walk the earth but are still among us offering guidance and comfort.
The ndoro is an emblem personified by the spiral shape of the mollusk shell. These shells were rarely found in land-locked Zimbabwe. Because of their rarity, the ndoro spiral became an insignia of spiritual power and are considered a link to the ancestral realm.
Ndoro Dze Madzinza ("emblem of Africa's clans, linking us to our ancestors") is a collection of mbira songs and an expression of appreciation for the richness and beauty Shona and Pan-African traditions.
Song List and Descriptions
Click on title to hear a sample!