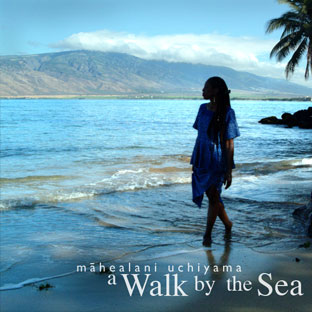 A Walk by the Sea is an offering of thanksgiving. Water, as a vessel of healing, connects us to each other, to the natural world, and to the Divine.
Song List and Descriptions
He Mele No Na Aumakua An offering of love to our ancestors.
Mihi Au A traditional Tahitian love song.
Na Hoku 'Elua "The Two Hokus", a song in celebrating Mahea's son and Tahitian Godson, both with the name Hoku (star).
Shumba yaNgwasha An mbira song in celebrating community.
A Prayer at Sunset Based on the mbira song 'Kuzanga' this song is dedicated to the ancestors.
Cherokee Morning Song This is a song which one would chant while entering the river in the morning to give thanks for the new day, and to wash away any feelings separating you from your family, neighbors, or the Creator.
Mercy Mercy Me (The Ecology)/Huli Ka Honua "Huli Ka Honua" a Hawaiian adaptation of "Mercy Mercy Me (The Ecology)".
Uaro Composed by Aaron Sencil.
A song for the Shore Goddess.
Pahupahu A fusion of Tahitian 'Ote'a with the West African rhythms of Lamba (for healing) and Manjiani (for celebration), this performance is a celebration and call of support for all of us who walk in two worlds.
He Kamahele Au Home resides in the heart.
Te Arohanui A prayer calling on the Ancestor Spirits for strength and perseverance.
Walk in Balance A hidden track" not included in the liner notes.